Ella Marder
Ella Marder is a French-American curator and creative strategy consultant. She specializes in the creation and development of cultural partnerships and programming, working closely with diverse organizations and artists in both the U.S. and Europe.
Marder holds a double Master's degree from the Department of Art History and Modern Literature & Film at the Jussieu University of Paris. 
Ella Marder served as an Associate Cultural Attaché at the French Embassy's Visual and Performing Arts department in New York. There, she specialized in fostering and advancing French-American artistic exchange. She then became founding Program & Managing Director for Pioneer Works, Center for Art and Innovation. As the Center's first Director, she was integral in shaping Pioneer Works' exhibitions, outreach, education, and residency programs.
As a curator and consultant, Marder closely collaborates with organizations and artists spanning all disciplines. Marder is the Director of Cultural Programming of NeueHouse, a private creative collective and workspace of leading entrepreneurs and creative teams. Located in New York, Los Angeles and soon London, NeueHouse is a global home for innovators in film, design, fashion, branding, architecture and the arts.
Her collaborators and institutional partners include: NeueHouse (Current Cultural Ambassador/ Cultural Programs), Pioneer Works, Oberon Hospitality, Fort Gansevoort, Performa, Vision Into Art, National Sawdust, The Kitchen, TED, The New York Public Library, The Museum of Jewish Heritage, Clocktower Productions, Issue Project Room, Crossing The Line festival, French Institute Alliance Française, Barbes, The Cultural Services of the French Embassy, Rooftop Films, Residency Unlimited, Recess, The Irish Historical Society, Vice, The Brooklyn Academy of Music (BAM), CUNY, Columbia University, The Brooklyn Museum, National Sawdust, Vision into Arts, Art OMI, Rooftop Films, Centre National d'Art Dramatique d'Orléans, Cultural Services of the French Embassy, Number 29 Communications, Studio 55, The Invisible Dog, 1:54 African Art Fair (London), Foam Photography Museum (Amsterdam), Joyce Yahouda Gallery (Montreal), Palais de Tokyo (Paris), Galerie Anne Barrault, Galerie Anne Vidal (Paris), and more.
Among the visual artists with whom she has worked are: Julian Crouch, Bosco Sodi, Daniel Horowitz, Henrique Oliveira, Gerard & Kelly, Chico MacMurtrie, Mickalene Thomas, Michael Joo, Philippe Quesne, Arthur Nauzyciel, Elie Wajeman, Clifford Owens, Louise Despont, Hank Willis Thomas, Nora Chipaumire, Cadu, David Horvitz, Rachel Sussman, Pedro Barbeito, Andres Carranza, Dorit Chrysler, Molly Lowe, Yuri Masnyj, Lauren Bakst, Hyon Gyon, Loris Gréaud, Matthew Leifheit…
read more
Works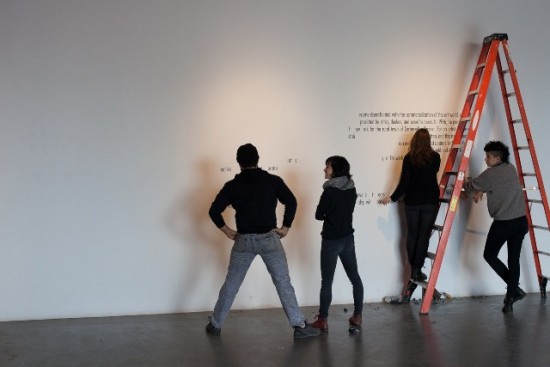 Installing at Pioneer Works