Marlene Steyn & Àngels Miralda
Marlene Steyn is known to produce immersive, installation-based experiences, cultivating an expectation for her ever increasingly fantastic, constructed worlds. Her distinctive iconography takes shape through unsettling established ideas surrounding themes of psychoanalytic theory, certain historical narratives of art as well as popular signifiers, borrowed from contemporary culture. Adept at choosing telling details, Steyn reviews familiar objects to create uncanny motifs through repetition and unpredictable combinations. Using anchor points such as the androgynous figure, the fried egg, and braided ropes of hair, Steyn reinforces the symbolic visual language that has become the cornerstone of her practice.
Marlene Steyn was born in 1989 in Cape Town, South Africa, where she currently lives and works. She obtained her Master of Fine Art degree in 2014 from the Royal College of Art in London, UK. Steyn has since presented a number of critically acclaimed solo exhibitions, including: How Cannibals Cuddle at Cabin Gallery in London, in 2014; Mad Love at Lychee One in London and The End is Located Underneath Her Third Armpit (if the muscle is flexed) in Cape Town, both in 2015; as well as Your Skin Is Not The Best Hiding Place at SMAC Gallery in Cape Town; and You Can't Cry When Your Head is Underwater at Lychee One, London, both in 2016; Knot I : I Knotat SMAC Gallery in Johannesburg, South Africa in 2017,  as well as her most recent exhibition Shouty Insides at Galerie DYS in Brussels, Belgium in 2018.
Recent group exhibitions include: Faces & Other Scenarios, a two-person show at Galerie d'Ys in Brussels, Belgium; New Monuments at Commune.1, Cape Town, South Africa; Paper, publication, performance at Lychee One, London, UK; Inside Out at Castlefield Gallery in Manchester, UK; and Across the Divide at Rosenfeld Porcini in London, UK, all in 2016; Where They Hum (a three women show with Rose Wylie and Freya Douglas-Morris) at Lychee One, London, UK; Another Antipodes, at Urban Axis – PS Art Space in Fremantle, Australia; the FNB Joburg Art Fair; 1:54 Contemporary African Art Fair both with SMAC Gallery in 2017 and her recent group presentation with SMAC Gallery at the 2018 Investec Cape Town Art Fair at the Cape Town international Convention Centre (CTICC) in Cape town, South Africa.
Marlene Steyn's work features in numerous public and private collections including the Zeitz Museum of Contemporary Art Africa (MOCAA) and featured at the museum's inaugural exhibition in 2017.
Recently Steyn presented her solo presentation at the MiArt Fair in Fiera Milano City, Italy in April 2018. Steyn also participated in a two-month collaborative residency with Kay 16 and Artport Residency in Tel Aviv, Israel. The residency culminated in September, in an exhibition produced with the support of: Kay 16 – Community Gallery for Contemporary Art; Ministry of Culture Israel; Mifal HaPais; Yehoshua Rabinovich Foundation for the Arts; ArtPort; Beit Benyamini Ceramics Centre; and Maccabee Beer.
Àngels Miralda (b. 1990, Princeton, New Jersey) is a writer and curator based in  Barcelona.
Her independent work focuses on the materiality of art production as a working metaphor for contemporary industrial scale production, historical folkloric crafts, ecological relations, landscape, and natural mythologies. Upcoming exhibitions are planned at the Latvian Centre for Contemporary Art in Riga where she will co-curate the largest annual visual arts festival in the Baltic region, Survival Kit 10, in September 2018 and May 2019, a curatorial project for the second edition of BIENALSUR in Buenos Aires organised by the Universidad Nacional Tres de Febrero from June to October 2019, as well as group exhibitions at Lítost (Prague) and Gallery Miroslav Kraljevic (Zagreb). Recent curated exhibitions have taken place at the Museum of Contemporary Art (Santiago de Chile); Horse and Pony Fine Arts (Berlin); Bombon Projects (Barcelona); Arebyte Gallery (London); Atelier 35/ODD (Bucharest); and Podium (Oslo).
Her art criticism has been published in Sleek Magazine, Blok Magazine, Revista Arta, Rotunda Magazine, Collecteurs, AQNB, We Are Collected, and Contemporary Art Stavanger. Catalogue texts and research-based writings have been produced by Centre Georges Pompidou (Paris), Royal College of Art Humanities Journal (London), Jerwood Space (London), Association of Art Historians (London), Galleria Patricia Ready (Santiago de Chile), House of Egorn (Berlin), and Espai Dos (Terrassa). Curatorial residencies have enabled her to have a wide knowledge of international contemporary art practices thanks to the invitations from Molten Capital (Santiago de Chile), ARC (Bucharest), Servais Family Collection (Brussels), ODD (Bucharest), and ArtPort (Tel Aviv).
Read more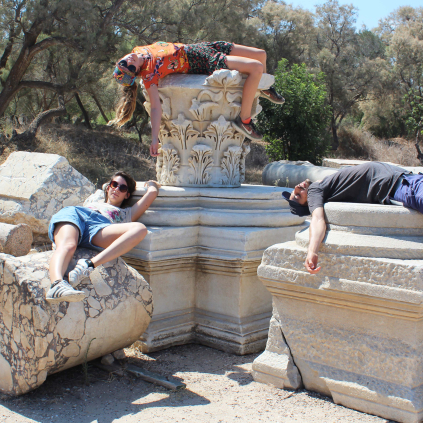 Works
Kneading the Torso Makes a Buzz
Marlene Steyn, Àngels Miralda, Abraham Kritzman, 2018